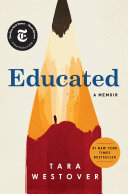 Educated
A Memoir
I had started on a path of awareness, had perceived something elemental about my brother, my father, myself. I had discerned the ways in which we had been sculpted by a tradition given to us by others, a tradition of which we were either willfully or accidentally ignorant. I had begun to understand that we had lent our voices to a discourse whose sole purpose was to dehumanize and brutalize others -- because nurturing that discourse was easier, because retaining power always feels like the way forward.
Not knowing for certain, but refusing to give way to those who claim certainty, was a privilege I had never allowed myself. My life was narrated for me by others. Their voices were forceful, emphatic, absolute. It had never occurred to me that my voice might be as strong as theirs.
Everything I had worked for, all my years of study, had been to purchase for myself this one privilege: to see and experience more truths than those given to me by my father, and to use those truths to construct my own mind. I had come to believe that the ability to evaluate many ideas, many histories, many points of view, was at the heart of what it means to self-create. If I yielded now, IO would lose more than an argument. I would lose custody of my own mind. This was the price I was being asked to pay, I understood that now. What my father wanted to cast from me wasn't a demon: it was me.