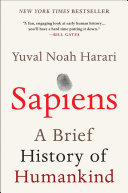 Sapiens
A Brief History of Humankind
Today our big brains pay off nicely, because we can produce cars and guns that enable us to move much faster than chimps, and shoot them from a safe distance instead of wrestling. But cars and guns are a recent phenomenon. For more than 2 million years, human neural networks kept growing and growing, but apart from some flint knives and pointed sticks, humans had precious little to show for it. What then drove forward the evolution of the massive human brain during those 2 million years? Frankly, we don't know.
Any large-scale human cooperation -- whether a modern state, a medieval church, an ancient city or an archaic tribe -- is rooted in common myths that exist only in people's collective imagination. Churches are rooted in common religious myths. Two Catholics who have never met can nevertheless go together on crusade or pool funds to build a hospital because they both believe that God was incarnated in human flesh and allowed Himself to be crucified to redeem our sins. States are rooted in common national myths. Two Serbs who have never met might risk their lives to save one another because both believe in the existence of the Serbian nation, the Serbian homeland and the Serbian flag. Judicial systems are rooted in common legal myths. Two lawyers who have never met can nevertheless combine efforts to defend a complete stranger because they both believe in the existence of laws, justice, human rights -- and money paid out in fees. Yet none of these things exists outside the stories that people invent and tell one another. There are no gods in the universe, no nations, no money, no human rights, no laws, and no justice outside the common imagination of human beings.
The Agricultural Revolution certainly enlarged the sum total of food at the disposal of humankind, but the extra food did not translate into a better diet or more leisure. Rather, it translated into population explosions and pampered elites. The average farmer worked harder than the average forager, and got a worse diet in return. The Agricultural Revolution was history's biggest fraud.
If people realise that human rights exist only in the imagination, isn't there a danger that our society will collapse? Voltaire said about God that 'there is no God, but don't tell that to my servant, lest he murder me at night'. Hammurabi would have said the same about his principle of hierarchy, and Thomas Jefferson about human rights. Homo sapiens has no natural rights, just as spiders, hyenas and chimpanzees have no natural rights. But don't tell that to our servants, lest they murder us at night.
Culture tends to argue that it forbids only that which is unnatural. But from a biological perspective, nothing is unnatural. Whatever is possible is by definition also natural. A truly unnatural behaviour, one that goes against the laws of nature, simply cannot exist, so it would need no prohibition.
Ever since the French Revolution, people throughout the world have gradually come to see both equality and individual freedom as fundamental values. Yet the two values contradict each other. Equality can be ensured only by curtailing the freedoms of those who are better off. Guaranteeing that every individual will be free to do as he wishes inevitably short-changes equality. The entire political history of the world since 1789 can be seen as a series of attempts to reconcile this contradiction.
For thousands of years, philosophers, thinkers and prophets have besmirched money and called it the root of all evil. Be that as it may, money is also the apogee of human tolerance. Money is more open-minded than language, state laws, cultural codes, religious beliefs and social habits. Money is the only trust system created by humans that can bridge almost any cultural gap, and that does not discriminate on the basis of religion, gender, race, age or sexual orientation. Thanks to money, even people who don't know each other and don't trust each other can nevertheless cooperate effectively.
The European empires did so many different things on such a large scale, that you can find plenty of examples to support whatever you want to say about them. You think that these empires were evil monstrosities that spread death, oppression and injustice around the world? You could easily fill an encyclopedia with their crimes. You want to argue that they in fact improved the conditions of their subjects with new medicines, better economic conditions and greater security? You could fill another encyclopedia with their achievements. Due to their close cooperation with science, these empires wielded so much power and change the world to such an extent that perhaps they cannot be simply labelled as good or evil. They created the world as we know it, including the ideologies we use in order to judge them.
Credit enables us to build the present at the expense of the future. It's founded on the assumption that our future resources are sure to be far more abundant than our present resources. A host of new and wonderful opportunities open up if we can build things in the present using future income.
Counter-intuitively, while humankind's use of energy and raw materials has mushroomed in the last few centuries, the amounts available for our exploitation have actually increased. Whenever a shortage of either has threatened to slow economic growth, investments have flowed into scientific and technological research. These have invariably produced not only more efficient ways of exploiting existing resources, but also completely new types of energy and materials.
Just as the Atlantic slave trade did not stem from hatred towards Africans, so the modern animal industry is not motivated by animosity. Again, it is fuelled by indifference. Most people who produce and consume eggs, milk and meat rarely stop to think about the fate of the chickens, cows or pigs whose flesh and emissions they are eating. Those who do think often argue that such animals are really little different from machines, devoid of sensations and emotions, incapable of suffering. Ironically, the same scientific disciplines which shape our milk machines and egg machines have lately demonstrated beyond reasonable doubt that mammals and birds have a complex sensory and emotional make-up. They not only feel physical pain, but can also suffer from emotional distress.
We are all good consumers. We buy countless products that we don't really need, and that until yesterday we didn't know existed. Manufacturers deliberately design short-term goods and invent new and unnecessary models of perfectly satisfactory products that we must purchase in order to stay 'in'. Shopping has become a favorite pastime, and consumer goods have become essential mediators in relationships between family members, spouses and friends. Religious holidays such as Christmas have become shopping festivals. In the United States, even Memorial Day -- originally a solemn day for remembering fallen soldiers -- is now an occasion for special sales. Most people mark this day by going shopping, perhaps to prove that the defenders of freedom did not die in vain.
In medieval Europe, aristocrats spent their money carelessly on extravagant luxuries, whereas peasants lived frugally, minding every penny. Today, the tables have turned. The rich take great care managing their assets and investments, while the less well heeled go into debt buying cars and televisions they don't really need.
The main promise of premodern rulers was to safeguard the traditional order or even to go back to some lost golden age. In the last two centuries, the currency of politics is that it promises to destroy the old world and build a better one in its place.
Most science-fiction plots describe a world in which Sapiens -- identical to us -- enjoy superior technology such as light-speed spaceships and laser guns. The ethical and political dilemmas central to these plots are taken from our own world, and they merely recreate our emotional and social tensions against a futuristic backdrop. Yet the real potential of future technologies is to change Homo sapiens itself, including our emotions and desires, and not merely our vehicles and weapons. What is a spaceship compared to an eternally young cyborg who does not breed and has no sexuality, who can share thoughts directly with other beings, whose abilities to focus and remember are a thousand times greater than our own, and who is never angry or sad, but has emotions and desires that we cannot begin to imagine?
We have advanced from canoes to galleys to steamships to space shuttles -- but nobody knows where we're going. We are more powerful than ever before, but have very little idea what to do with all that power. Worse still, humans seem to be more irresponsible than ever. Self-made gods with only the laws of physics to keep us company, we are accountable to no one. We are constantly wreaking havoc on our fellow animals and on the surrounding ecosystem, seeking little more than our own comfort and amusement, yet never finding satisfaction.